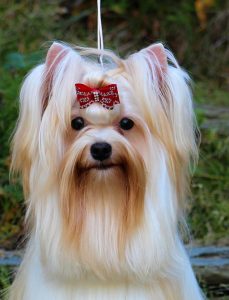 Golddust yorkshire terrier
Datum narození: 16. 11. 2017
CHOVNÁ // BREEDING GIRL
Výška: 21,5 cm
Bonitační váha: 2,9 kg // současná váha: 3,2 kg
Father: ICh. Ch. JCh. Playboy Yanis Iz Doma Vodoleya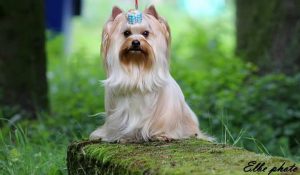 Mother: ICh. Ch. JCh. Bonny Club Golden Dogs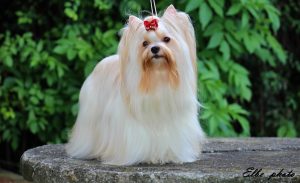 Breeder: Pavlína Klepetková
Pedigree: http://ingrus.net/biewer/en/details.php?id=19901
Výstavní úspěchy/Exhibition awards:
FCI shows
4x CAC, 3x CAJC, 7x Excellent 1, 7x BOB (Best of breed), 1x BOJ (Best junior in breed)
Junior champion of Romania
Champion of Serbia
Ostatní výstavy/Other shows
2x CACIB, 2x Excellent 1, Best of class offene 2. platz in Hart, Germany (BKV club show 5. 5. 2019)
2x Very promissing 1

Best of breed yorkshire 2nd place
Best of class baby 1st place = BEST BABY
Baby Champion 1PRV
Bianca je typický golddust s vyrovnanou a klidnou povahou. Je to malá psí slečna s velkou osobností a velkým srdcem, miluje lidskou i psí společnost. Už večer po svém příjezdu do naší rodiny působila, jako by tady byla odvždycky. Koluje v ní krev nejlepších golddustů v České republice a doufáme, že bude dobře reprezentovat naši chovatelskou stanici na výstavách a jednou bude kvalitní posilou našeho chovu.
Bianca is a typical golddust with a balanced and calm character. She is a small dog with a great personality and a big heart, loves both human and dog society. Already in the evening after she arrived in our family, she seemed to be here forever. She has the blood of the best golddust in the Czech Republic and we hope she will represent our kennel well on dog shows and she once will be a great boost for our breeding.
Fotogalerie: